Former Hospital Calambrone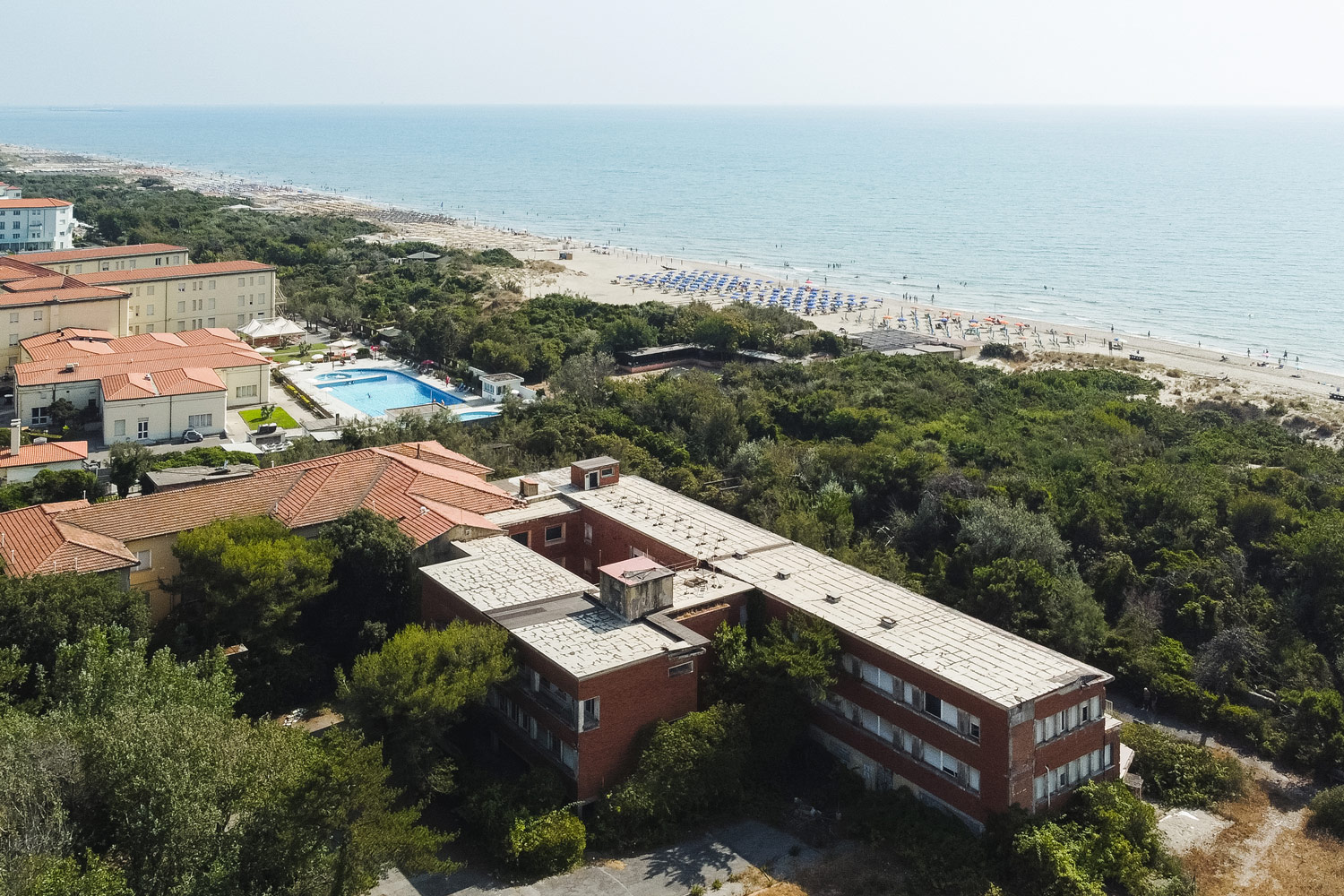 The complex consists of the former Hospital named "Il Calambrone" located along the Pisa coast.
The former health facility is around 20km away from the centre of the city of Pisa, right in the south area of Tirrenia, a seaside tourist resort.
• The Calambrone building was largely built in the 1930's as a set of large building complexesintended to be used as public and corporate summer camps and was developed after the war, including through the establishment of health facilities.
• The Presidio, "Istituto Cure Marine di Tirrenia V. Putti", built in the 1960s and transformed, following acquisition of USL Pisa assets, into its current hospital use in the '70s, is located in an area near to the sea and has a decidedly linear and austere architectural configuration in which there are no particularly valuable decorative elements.
• The building, built entirely in reinforced concrete, consists of three interconnected main blocks.
• In the second half of the 1900s, with the slow disposal of colonies, the area, which was sparsely populated, faced an overall decline, but from the start of the 2000s urban choices brought new development to the area.
• Its proximity to the mouth of the Scolmatore and Calambrone rivers and with the industrial area of Stagno and the port of Livorno, while causing a state of deterioration to the overall environmental quality, were not an obstacle for the settlement in a touristic way. This is however currently in full development, as documented by the massive property private renovations that, privately, are affecting the local ancient marine colonies.
Ownership
Ownership Name:

Pisa Hospital Authority

Type:

Public body
Location
Province:

Pisa

Municipality:

Calambrone

Address:

Viale del Tirreno, - Calambrone (Provincia di Pisa)
Accessibility
Airport:

19,3 km

Railway Station:

17,8 km

Motorway:

90 km
Info
Gross Floor Area:

1820 sqm

Land Area:

5,086.2 sqm
Sectors
Current Use:

Medical/Assisted Living

Potential use:

Hospitality, Residential, Social Housing, Retail
Investment
Type of Investiment:

Sale of full ownership

Contract Dissolution Type:

Public tender